This Mother's Day, I'm working with Clever Girls in support of Macy's Heart of Haiti to shine a light on the "trade, not aid" program, which provides sustainable income to Haitian artisans struggling to rebuild their lives and support their families after the 2010 earthquake. What is Macy's Heart of Haiti? Heart of Haiti is a "Trade, Not Aid" initiative launched by artist and social entrepreneur, Willa Shalit, The Clinton Bush Haiti Fund and Macy's. Already, Heart of Haiti has led to employment of 750 artists in Haiti, providing financial benefits for an estimated 8,500 people in the country.
Each item is a one-of-a-kind design and handmade by a Haitian master artisan from raw materials such as recycled oil drums, wrought iron, papier-mâché and stone. The collection features more than 40 home decor items including quilts, metalwork, ceramics, jewelry and paintings and is made almost entirely from recycled and sustainable items such as old cement bags, cardboard, oil drums and local gommier wood.
Heart of Haiti products are available online at Macy's.com.
For Mother's day this year, I figured nothing would suffice than an Ode to my Mom. She is, well, amazing in so many ways.
Ode To my Mom
By Laura
Oh, my darling Moomie,
You are so amazing,
Even though you eat sushi (only the cooked variety) with a fork.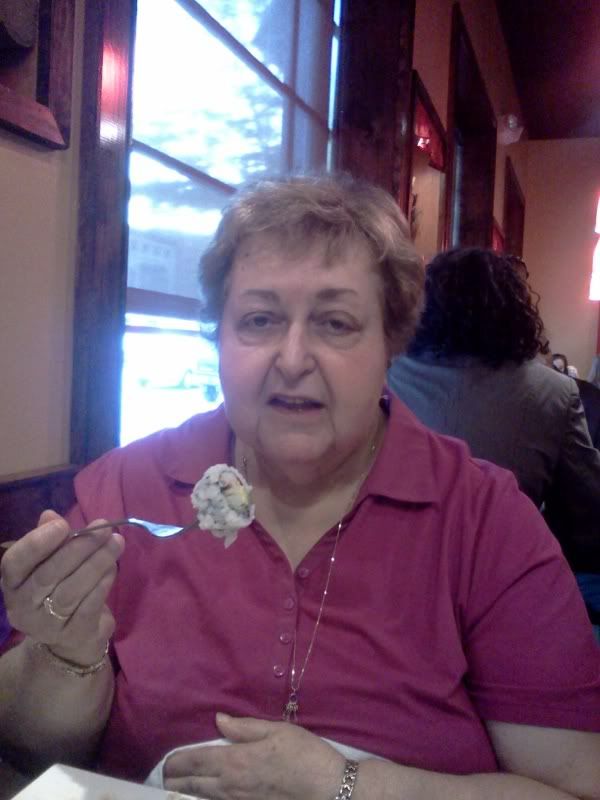 (and yes, I still think that's wrong.)
You love to roll your eyes at me and claim you wanted girls, but got me instead-
with my hockey loving, Star Wars adoring self.
You listen without me knowing,
and can always pick the perfect gift, say the right thing or laugh at the dumbest joke.
(and yes, almost all of my jokes are dumb.)
The original Dance Mom
without all of the drama
A softball mom who worked the concession stand and snuck us freeze pops
A music lesson mom who tolerated various musical instruments and sat through endurathon concerts.
Mom who has no fear about laughing at herself
(and the baby penguins)


My mom.
The one who said she always wanted girls…but got me and my sister.
who are so unlike her
but she still is
fun,
tolerant,
loving,
and always willing to be at an event for any one of us
and suffer through some of the longest events in world history.
Annual apple pies
applesauce
French toast
Mom was always a good cook.
Trips
crazy adventures
and wrong turns
Not taking any sort of highway-always taking the surface streets.
All of these things add up to mom.
My wonderful Mom.
So, there is my ode to my Moomie. She's the best Mom a girl could have.
Happy Mother's day, Mom!
I hope when Isaac looks back on me when he's my age, he can say half of the things that I love about you. You are the best!
Thank you to Macy's Heart of Haiti for sponsoring my participation in this "Share Your Heart" promotion. I was selected for this sponsorship by the Clever Girls Collective. All opinions expressed here are my own.