Warning
: Illegal string offset '_swift_disable_ads' in
/home/kileighc/public_html/wp-content/themes/swift/lib/functions/display.php
on line
426
I never win anything. Seriously. This year notwithstanding, I win nothing.
Now, sometimes, I keep my hopes intentionally low, so when I do win something I act like I'm 5 and whoop around the room like I did when I won the hockey tickets. It is quite the sight.
So, when I enter contests, a lot of times I forget that I've even entered them. Just kind of a survival function. I do it so that I don't get my hopes up to win anything.  Hence, when I entered to be sponsored for a blogging conference from Latism (the Latin American Blogging Community), I promptly forgot about it.
Why? See the "I never win anything" statement above.
So, when my email binged while I was at work on the Tuesday before the conference, I didn't think much of it. I figured it was one of Isaac's teachers or some sort of advertisement that I would promptly delete.
It wasn't any of the usual suspects, but an email from Ana, the head of Latism.
Umm…what?
The general gist of the email was that the original recipient had backed out and they had  a sponsorship for that weekend's Blogalicious conference open, and would I be interested in taking it? Oh, and can I please let them know by 4 PM?  It was noon when the email hit my inbox.
Insert me freaking out completely, calling Doug and looking at my boss asking if he could spare me for a day (or two). All parties agreed and I flew the email that said "I'm in!"
Now, here comes the Mommy guilt. That weekend? First weekend of hockey for Shrimper.  I don't miss hockey. I'm in the stands, cheering, hanging out and finding out the whole dirt of the league the first day. Can't trust the other half to do that.  But, then, the sensible part of me kicked in.
First, I remembered that I was complaining about my "area claustrophobia" and needed to blow dodge.
Then, I remembered that this would be a FULL RIDE-conference ticket, hotel, transport. It was dumb to say no!!
I then had a million thoughts run through my head-what to pack, what to bring, oh, my. The freakout started.
I made Doug go and get the suitcase from the loft, irritating Sabrina (who had made it her bed since it came back from the Outlaws house in December) and I started sifting through clothes to wear.
Honestly, I don't think I've ever had this short of  notice on a trip…but I was all for it.
I spent Wednesday freaking out, making phone calls, rearrainging life, ect.
Then, Thursday I was at the airport.  I kissed the boys goodbye and set out on my adventure.
Every.single.emotion went through my head.
I was frightened, excited, and was a serious deer in the headlights.
My first hurdle was TSA.
Y'all know I wear this:
and I wasn't sure what the TSA would do with this. Seriously.
I've heard things go smoothly, I've heard things go not so hot. BUT, on all accounts, I've heard that you need to announce that you wear one of these adorable things that help keep us vertical.
So, I told the first agent that I was wearing one. He looked at me like I had 20 heads and asked if I had syrynges.
Umm. No.
He asked me how many pre-filled pens I had.
umm..zero.
I told him I had ONE full vial of Insulin in the bag. Plus I had pump supplies (2 resevoirs, 2 infusion sets.).
He still looked confused.
So, then, he sends over the female agent who starts the entire line of questioning over again.
OY!
So, I go through the metal detector and it doesn't alarm. She swabs my hands from touching the pump and then declares me free to go.
Ok. Sure. That was relatively painless.
I amble down to the gate and hang out there until boarding.
I flew Southwest. I had boarding pass A1.
NICE.
We were stuck on the tarmac for a good half hour, but eh. I was just excited to get to BWI and get to the hotel and get this show on the road!
From the airport, I took the shuttle to the hotel and was on the 19th floor. Yes, 19.
I was in shock, as the girl afraid of heights would have to ride an elevator with a GLASS WALL to the 19th floor.
I wanted to die. Hardcore.
But the view of the Potomic was totally worth it.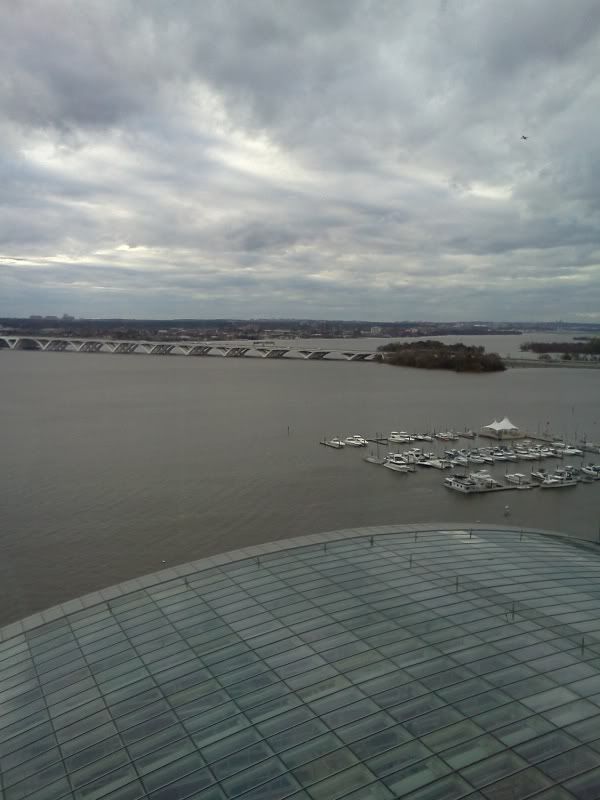 I dropped my stuff and got down to exploring National Harbor for dinner and before check in and a visit to the Hanes Comfort Suite.
Now, My Darling (oft blogged) Mom's favorite candy EVER is Peeps. Yes, those marshmallow birds. She loves them hard. I think she's nuts, but when I saw this


I knew I had to call and check in and tell her what I saw.
yes, this is a store dedicated to all things Peeps, Mike & Ike and Hot Tamales.
I died.
and so did Mom when I told her.
After shopping and dinner (at Elevation Burger. YUM. Hey! Upstate NY, can we get one here?!) I went in, checked in and got my first ever Swag bag. I'll get into my swag bags later. That was beyond…well. Just beyond. I then went into the suite. Oh, my heavens.
Now, smart me didn't bring the camera and the CELL PHONE WENT DEAD. Yeah. Really smart move there. Can I blame my "Deer in Headlights" status?
So, I have no pictures.
But picture-bean bags, yummy food, drinks, and the one and only Rene Syler.
Yeah. I met Rene Syler.
We chatted, she is awesome…we scammed popcorn, and I went upstairs to crash.
More on Rene later…
Then, I got a phone call (my phone was plugged in) and was told to meet the Latina contingent in the bar in 10 minutes for drinks, and Ana would be there shortly.
Can I tell you how amazing it was to meet the team that sponsored me? Can I tell you how amazing it was to hang with a bunch of Latinas who know the drill about being Latina in today's world?
I was floored.
Then, I FINALLY went to bed.
And was not even close to ready for the next day…