Warning
: Illegal string offset '_swift_disable_ads' in
/home/kileighc/public_html/wp-content/themes/swift/lib/functions/display.php
on line
426
In July, we weren't thinking hockey. AT ALL.  We were vacationing, camping and having a generally awesome time.
That was when the email hit us.
It went something like this:
Dear Cross Ice and Travel Mite Parents,

We hope you are having a great summer! Please remember to sign your child up by 7/31 to avoid the 25.00 late fee.
Yeah. Did I mention that the whole thing came oh, a week prior to the 31st. That's while we were at the dude ranch.
So, we sucked up, paid up (who wants a fee?) and promptly forgot about the season for the rest of the summer. A break from the rink is important in our opinion.
Then, at the end of August, the emails started flying again. Meetings, paperwork, registration with USA Hockey (with an adorable picture of Bruins Goalie Tim Thomas…) and everything that comes with the beginning of a new  hockey season.
I was prepared for the original date-10/22. I had the plan of attack for gearing and all sorts of things lined up.
Then, another email threw my plan into complete disorder.
There was to be a charity 3v3 tournament for the Mites and Squirts (Isaac's level and the one above) to benefit the local flood victims.
Full out bake sale, raffle and a whole lot of kids playing hockey with the big guys from Union College.
Hrm.
When I asked Isaac, he gave me a thumbs up-he was ready to get back on the ice. I think the possiblity of playing with the big guys was really the first thing in his mind.
So, I made the Kemp's run for skate sharpening and helmet adjustment two weeks early.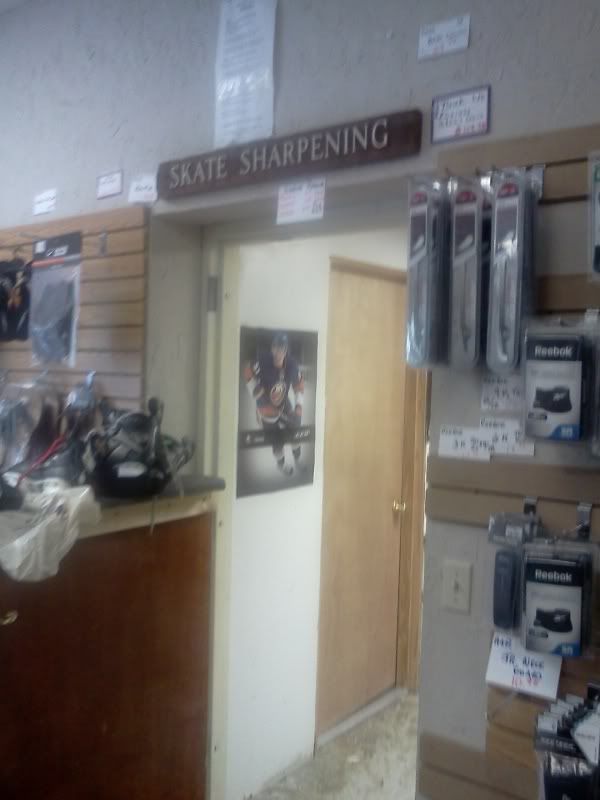 I'll be seeing them again in the not too distant future, unless the pro shop at the rink is open…but I digress.
And I made Isaac do a gear fashion show. You know-model it all for me to make sure it still fit. I wasn't so sure about the chest and shoulder protector, but it fits fine AND he doesn't need a new jersey! YAY!
We got to the rink early to drop off some baked goods, (I made the diabolical PB brownies. No, I didn't taste them. Be proud of me.) and then went to the local pizzeria just outside the school grounds for lunch. We fed the small hockey player lots of carbs. Read: a slice of pizza and a sprite. Then, we ambled back over to the arena.
We parked in back of the rink and wandered past all of the tailgaters (football was going on) and wandered into the rink.  We saw all of our hockey friends and some new ones-it was like a big "back to school" party-everyone talking about summers, ect. SO glad to see people moved up with us! YAY!
And our favorite coach is back! Coach Wally walked in wearing a shirt that said "I can't. I have hockey."
Yeah, that about sums up our October to March.
Shrimper got dressed and did the first tunnel walk of the year. He then joined the other Mites in being so excited to get on the ice for the first time this year, that they all started chanting "LET US IN!"
*sigh*
I already felt bad for the Union College Men's Team members that were serving as coaches/refs/big brothers. These kids were WIRED.
The kids were divided into two groups-Zamboni and Home Bench-it was by skill level. The mites who were there last year were in one group and then the new mites were in another.
Isaac was zamboni-white. So, peek for the shrimp. He wears #3. Again.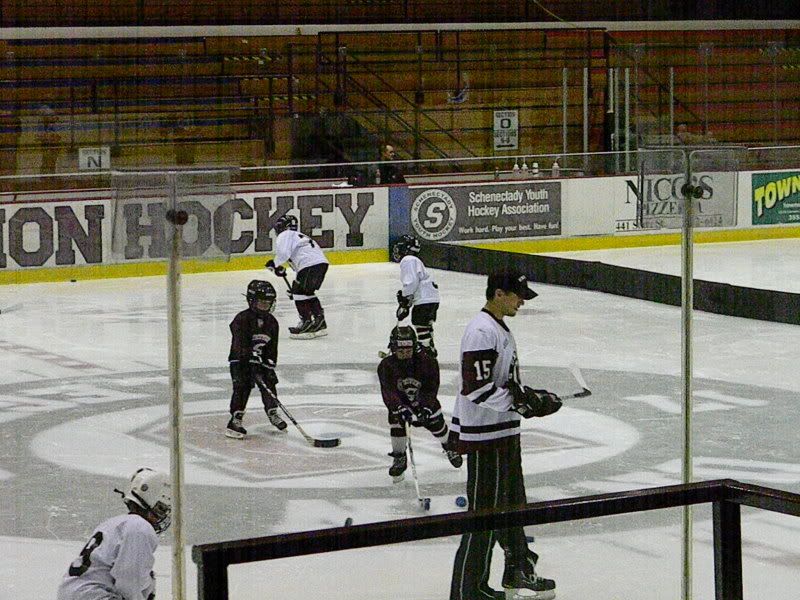 They played in two minute shifts with the big guys helping them out. I know one (I think it was Josh Jooris) fixed Isaac's grip on his stick a few times.( As he fatigues, he holds the stick like a broom.)
When they weren't playing,the center 3rd (center ice) was set up as a free play area. They would go in there, with a few of the other guys, shoot around, play, laugh and learn how to do a celebration dance. Yes. One player (I think it was Troy Grossnick) was teaching celebration dances. *sigh*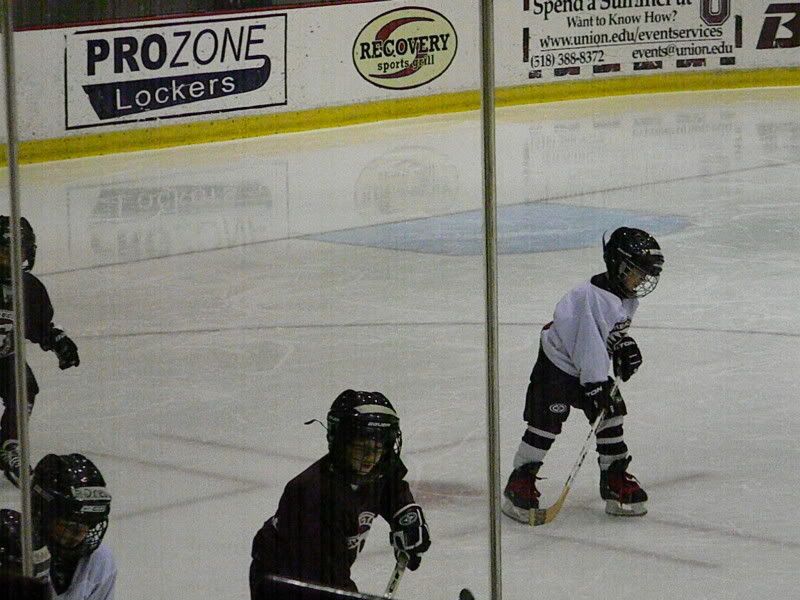 As he came off the ice, he said something that means we're already in deep…and we don't look to get out of being a hockey family for years to come-
"THAT WAS AWESOME!!"
and with that-the season starts. Now.