Today was Isaac's first day back to school since the Philadelphia trip.  It was very, very nice to get back into a groove. He was thrilled to get back to school because he's been SO bored. He was up with the sun this morning, and was ready to go.
He was outside on the porch before I could even get my shoes on…
and he was down in the driveway waiting…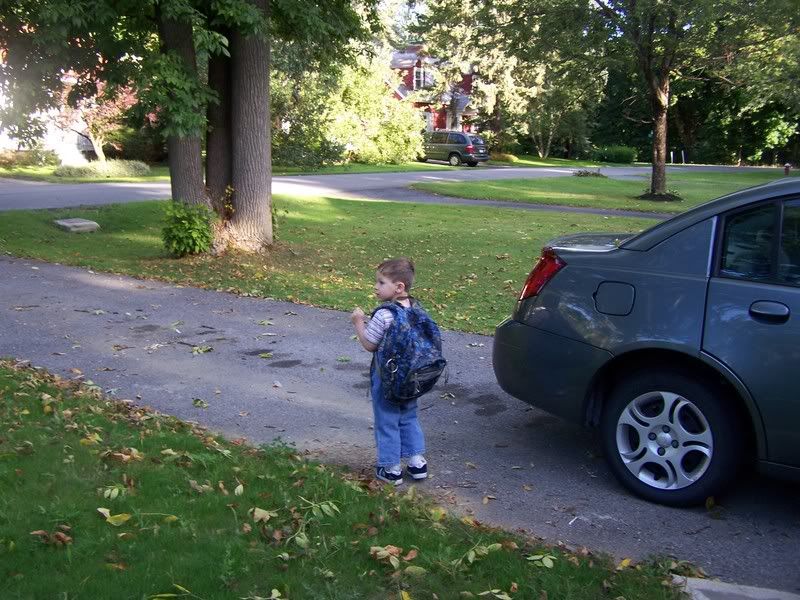 and Isaac dismissed me, and waved as the bus zoomed out of sight for his first day back!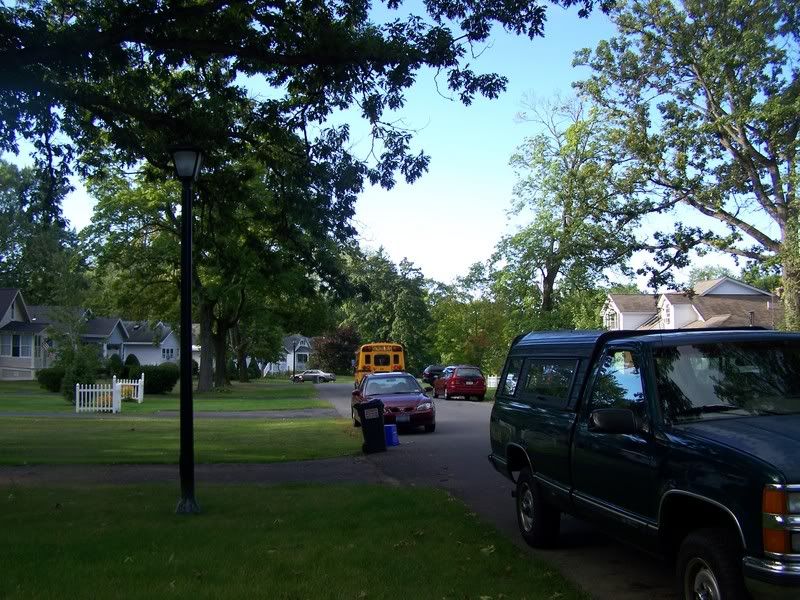 See? Nice new bus. Air conditioning on this one. Good new driver, awesome aide we've had before last year.
He's one little independent cookie. Got himself on the bus before I could even say good morning to the driver and aide!
Did I ever mention how we are THRILLED with the new pick up time for Isaac? Last year, poor Monkey was on the bus at 7:35 am. School starts at 9:00. Yeah. Do the math. He was 2 and change when he started, so he was on the bus for all of that time. Thank GOODNESS he's an awesome rider and doesn't give anyone any problems.  This year, he's got an 8:25 pick up time, because the driver has 3 kids in all one area of  town that's actually closer to their base, so instead of being #1 pick up, he's #4! Whoopie!!! So, we can take our time, get going at a normal pace instead of breakneck, and if we sleep through the alarm, we can actually get ready and make the bus instead of calling them and saying "we overlsept! No bus!" On the flip side, this means I also get him home before 2:30. There were days I didnt' see Isaac last year until 2:30 pm. NOT cool. This year, I see him by 1:40 barring traffic.  (school ends at 1)
So, Isaac's got a new head teacher (Tara) and one of the classroom aides is new (Meghan), but everyone else is the same. Isaac's love/hate relationship with Mary Jo continues and he's just too excited to see Cathy and Pam and all of his friends.
Here's to a great 2007-08 school year!